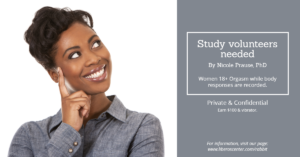 This is a study for women over age 18 who are not yet experiencing menopause and experience orgasm regularly during masturbation. The purpose of the study is to test how a new sex toy affects women's sexual experience.
We will ask you to come to our laboratory in west Los Angeles twice. Evening and weekend hours are available. The first visit will take about 90 minutes. The second visit will take about 60 minutes. The visits are private (no other volunteers are present) and confidential (we do not keep your name after you participate). You can receive $100 and the sex toy (which only you will be using).
To see if you qualify and to get more information, please schedule a free phone call with Dr. Prause using the link below. Any information you provide to schedule the appointment will be destroyed if you (1) do not qualify for the study, (2) decide not to participate, or (3) we are unable to reach you after three attempts.